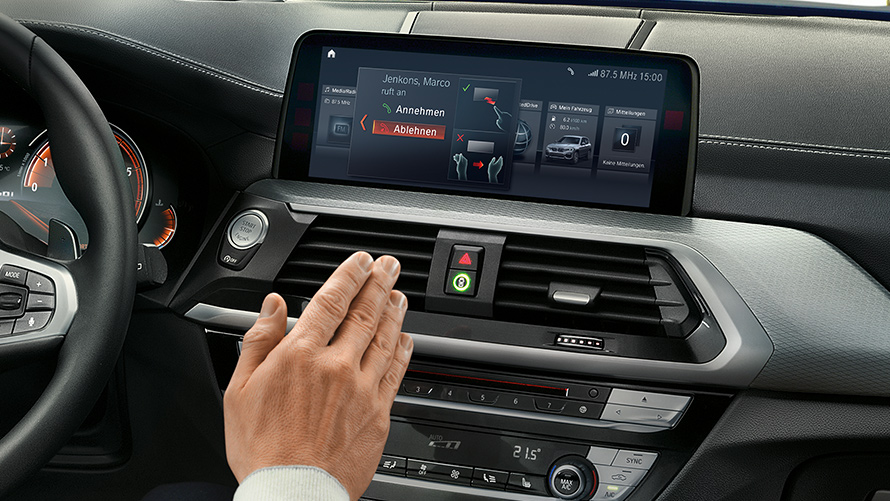 Pioneering operating concept.
The new operating concept of the BMW X3 inspires with outstandingly intuitive user guidance. Clearly arranged controls and extremely short distances between them and the steering wheel take the driving experience to a new level. Specific functions can be operated via the intelligent BMW voice control or BMW gesture and touch control. Movements such as "swiping" or "pointing" in the recognition area above the front centre console are all it takes to control phone calls or the navigation system.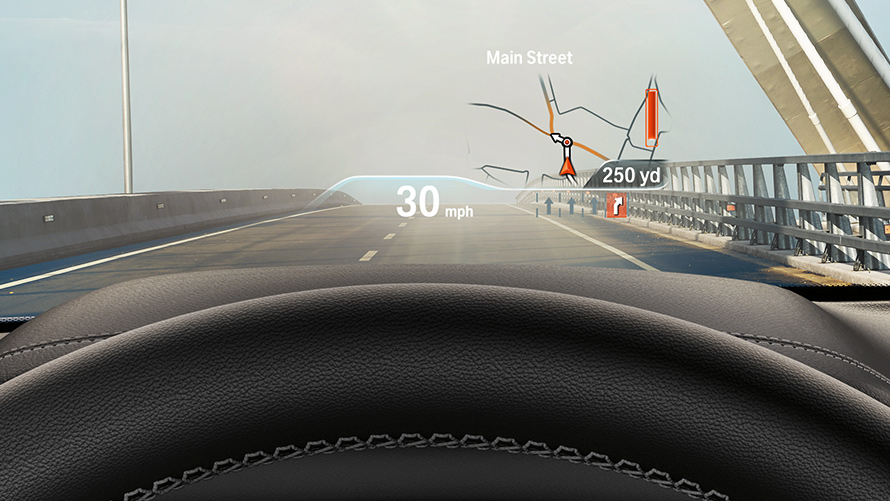 BMW Head-Up Display.
The full-colour BMW Head-Up Display projects all information relevant to the journey directly into the driver's field of vision, thereby allowing them to fully concentrate on driving. Information such as the current speed, navigation directions, Speed Limit Info including no-overtaking indicator, along with telephone and entertainment lists are displayed.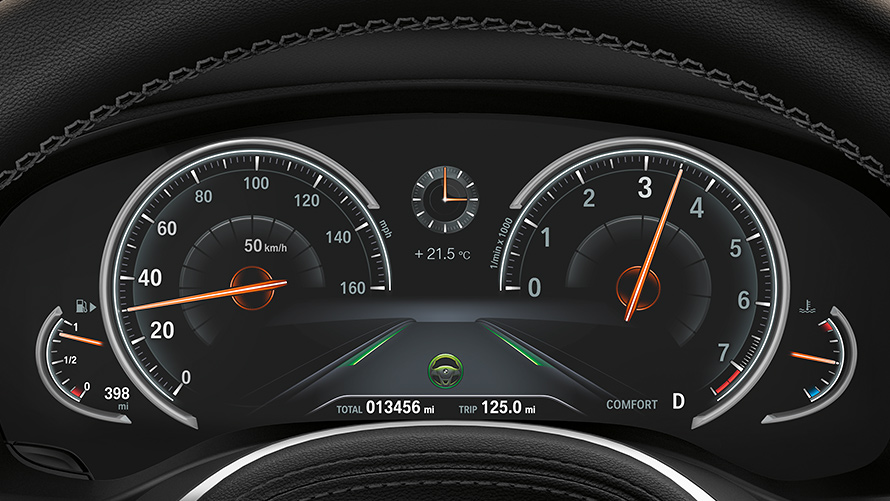 12" Control Display.
The Multifunctional instrument display with Black Panel technology and a screen diagonal of 12" provides a highly impressive visualisation of the driving experience. Three different modes and their specific displays – each of them have their own colour scheme and graphic style – can be displayed in the instrument cluster: ECO PRO, COMFORT and SPORT.
Fuel consumption and CO2 emissions.
The values of fuel consumptions, CO2 emissions and energy consumptions shown were determined according to the European Regulation (EC) 715/2007 in the version applicable at the time of type approval. The figures refer to a vehicle with basic configuration in Germany and the range shown considers optional equipment and the different size of wheels and tires available on the selected model.

The values of the vehicles labeled with (2), are preliminary.

The values of the vehicles labeled with (3), are already based on the new WLTP regulation and are translated back into NEDC-equivalent values in order to ensure the comparison between the vehicles. [With respect to these vehicles, for vehicle related taxes or other duties based (at least inter alia) on CO2-emissions the CO2 values may differ to the values stated here.]

The CO2 efficiency specifications are determined according to Directive 1999/94/EC and the European Regulation in its current version applicable. The values shown are based on the fuel consumption, CO2 values and energy consumptions according to the NEDC cycle for the classification.

For further information about the official fuel consumption and the specific CO2 emission of new passenger cars can be taken out of the "handbook of fuel consumption, the CO2 emission and power consumption of new passenger cars", which is available at all selling points and at https://www.dat.de/angebote/verlagsprodukte/leitfaden-kraftstoffverbrauch.html.